Manufactured stone veneer has been around for several decades, but over the last few years this concrete based building material has really made some serious advances in terms of quality, beauty and affordability. Year after year its great reception by residential designers and commercial builders has made it one of the most sought after building materials in the construction industry and has been recognized as one of the most cost effective home improvement projects to undertake with respect to the value that it adds to your home.
Most masonry companies will agree that stone veneer or Thin Stone Veneer has become extremely popular in recent years. From small masonry businesses to large commercial builders, there are literally millions of square feet of stone veneer being installed in residential housing developments, hotels, and commercial and government buildings around the world.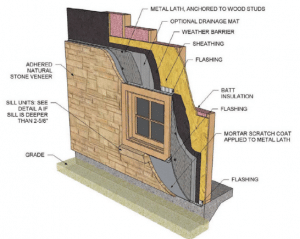 Dave Hall, owner of the masonry company that bears his name in Ripon, Calif. says, "I'm doing a whole subdivision of 80 houses right now, with between 400 and 1,000 feet of rock [manufactured stone] on each one. He went on to say, "Every style is popular, I install stone from Sacramento to Sonora, and everybody wants something different. As soon as they see that a style is popular, they switch to something else."
While stone veneer continues to increase in popularity there are those who have not yet jumped onboard the bandwagon. Many builders are still under the misguided impression that stone is too expensive for use in the average building project. However, while stone veneer does give the appearance of superior quality and higher cost, it is generally not significantly more expensive than other cheaper siding materials.
Jamie Scholl, a field superintendent for John Ginger Masonry, Riverside, Calif. says, "The only reason more builders don't [use manufactured stone] is its price" which is just a bit higher than other siding materials like vinyl or stucco. "What they need to know is that they don't need to do anything different in preparation than they would with a stucco job. The other thing they need to keep in mind is that it's easier to sell a home with a stone finish."
This misconception stems from the days when heavy quarried stone required special installation practices and specially trained masons. This significantly increased the cost of the build and was generally considered a building material that only the wealthiest among us could afford. This is no longer the case due to the innovations in cutting technology and within the concrete industry itself bringing the weight of stone down to an average of 14 Lbs. /Sq. Ft. While the costs vary regionally, the average national cost of a manufactured stone veneer or a natural thin stone installation is around $20 /Sq. Ft. depending of course on the stone veneer cost.
Christopher Miller, VP of Sales & Marketing for Mason's Mark Stone Veneer says, "The bottom line is that even a small high quality stone veneer finish on any home or business is going to translate into higher property values and a much higher return on investment. It is something we are seeing every day and the variety in styles and colors within the industry are virtually endless."