Please watch our YouTube video playlist for information about various installation techniques and important building code information.
The National Concrete Masonry Association provides their Stone Veneer Installation Guide and their Key Installation Checkpoints document that represent the best possible installation procedures for adhered concrete masonry veneers and its use is always recommended by Mason's Mark Stone Veneer and the Masonry Veneer Manufacturers Association for the installation of our products. Please visit the National Concrete Masonry Association website via these links below to download their documentation to ensure compliance.
** Please check with local building codes prior to installation, as code requirements can differ from one region to another!
DOWNLOAD MASONS MARK STONE ARCHITECTS RESOURCES
Any of our Natural Thin Stone Architectural Specifications and Detail Drawings can be
found using the manufacturers website at http://www.nsvi.com/specs
NATURAL & MANUFACTURED STONE VENEER & INSTALLATION PRODUCTS
NATURAL & MANUFACTURED STONE VENEER INSTALLATION GUIDES
MANUFACTURED STONE VENEER COLOR OPTIONS
MANUFACTURED STONE VENEER SPECIFICATIONS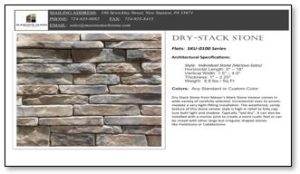 MANUFACTURED STONE VENEER PRODUCT INFORMATION