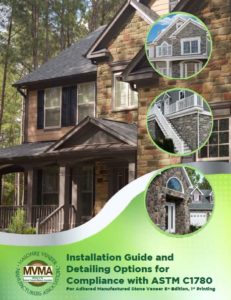 The National Concrete Masonry Association has released it's newest edition of their popular Stone Veneer installation guide for ASTM C1780 compliance. This document represents the best possible installation procedures for adhered concrete masonry veneers and its use is always recommended by Mason's Mark and the Masonry Veneer Manufacturers Association for the installation of Mason's Mark products.
Although Mason's Mark strives to provide the best possible manufactured stone within the construction industry, the installation of your manufactured stone is a critical factor in having a product that not only looks beautiful but also protects your home or business from the undesired effects of mother nature.
Our products are one of the few within the stone veneer industry that can boast a true "severe weather rating" with compressive strength above 8000 psi and having testing results that come in at a near zero water absorption percentage. In order to be considered a "severe weather product" the water abortion must be less than 12% according to masonry industry standards.
ATSM standards for stone veneer require a minimum compressive strength of 1800 psi and a water absorption of not greater than 24%. These standards are generally controlled by the concrete mixture during production. A cost savings can be achieved by increasing the use of cheaper materials such as sand and water during the manufacturing process but the strength of the product will be reduced as a result. Most stone veneer manufacturers strictly control costs in this way staying just above the industry standards to maximize profit margins while satisfying the industry requirements. While the industry standard is generally adequate in most circumstances there is quite an added benefit to installing a high-quality stone veneer product wouldn't you agree?
Mason's Mark Stone has been tested in accordance with ASTM standards by PSI, Pittsburgh and remains among the highest quality adhered masonry veneer products on the market today. Do the comparison and see for yourself the difference a high-quality stone product can make. After all, Our Mark is Excellence!