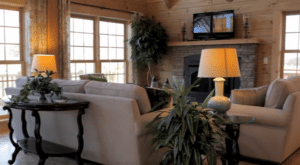 Mason's Mark Stone Veneer Corp. announced today that its products have been featured on a new construction home in Danville, PA. The home is be used by Southland Log Homes as a display model and local sales office in the south central region of Pennsylvania. The home features our Cheyenne Split-Face Fieldstone on both the exterior and interior fireplace and has drawn quite a bit of attention from local visitors.
"Mason's Mark Stone Veneer provides a beautiful high quality product at a very reasonable price and the Miller brothers are so easy to work with. There is a reason they have such a great reputation within the industry here on the east coast", said Gil Clark, Regional Manager of Southland Log Homes. The Danville, PA home is actually the second display model that Southland Log Homes has chosen to feature Mason's Mark Stone Veneer products in. The other is located in Hatfield, MA and features Chestnut Dry Stack Ledgestone installed in similar a fashion within the great room and on the exterior of this beautiful log home.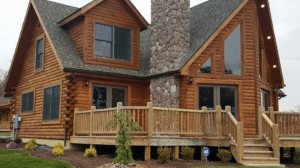 Mason's Mark's Vice President of Operations, Shawn Miller, has expressed time and again that they are very proud to have the opportunity to show off their stone veneer products in such a beautiful setting. Shawn went on to say, "Southland Log Homes is a great company that provides a beautiful home and we are pleased to be chosen from among so many other stone veneer manufacturers for this opportunity. This is such a great honor for us, thank you."
ABOUT SOUTHLAND LOG HOMES
America's most award-winning designer and the largest manufacturer of log cabin kits & log cabin homes. Southland has helped over 30,000 customers with beautiful custom log homes since 1978. Because they have designed thousands of log cabin homes over the years, it has given Southland great insight in perfecting their homes. Southland Log Homes knows what customers are looking for in their log cabin homes and log cabin plans. Their most popular log cabin kits offer many enticing features. Of course log cabin homes are as unique as their owners. Whatever your preference, Southland has the largest selection of log home plans and log cabin kits, and they will customize any of their plans to suit your needs and budget.
ABOUT MASON'S MARK STONE VENEER
Mason's Mark Stone Veneer Corp specializes in the manufacture and installation of superior quality, wet-cast stone veneer products and the retail sale of 100% Natural Thin Stone veneer and fireplace inserts. Our manufactured stone is hand-crafted using only the finest Portland cements, iron oxide pigments and lightweight aggregates. We strive to offer the highest quality products that are strong and durable in order to provide you with decades of beautiful stone veneer that is virtually maintenance free.