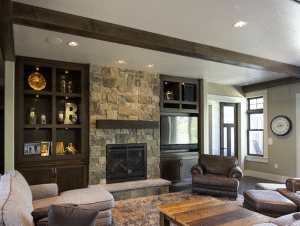 Interior design, using either natural or manufactured stone veneer creates some of the most beautiful and aesthetically appealing homes on the market today. Whether you decide to create a stone fireplace or an incredibly attractive accent wall with built-in bookcases, it will look fabulous showing off the beautiful textures, shapes and colors that have been unique to stone materials over the decades. Stone will add such warmth and flair to your home and create some of the most amazing accent walls in modern home design.
A stone accent is a truly great choice for just about any modern home design. It can easily blend the natural "old world" look with some of the most modern interior design ideas of the 21st century. Stone building materials combine the function, practicality, durability and incredible beauty making stone veneer a truly attractive interior design choice.
Stone is great for creating impressive architectural features and can add some truly amazing details to any number of interior design ideas. Using stone veneer you can create a one-of-a-kind accent wall and turn your fireplace into a spectacular focal point for your entire home. Combining large and small stones, or blending different types of stones into your creative interior design you can create stunning features with unusual, innovative and fresh ideas.
The modern manufacturing process has made stone veneer more versatile than ever before and will nicely blend with your walls and home furnishings adding a charming appeal to any home combining vintage style with contemporary or classic design.
One of the many added benefits of using either artificial, manufactured, cultured stone or using a natural thin stone veneer is that they are very heat resistant and will protect your wall from the radiant heat of wood burning and gas fireplaces and stoves. It is one of the most effective heat shields on the market today. Stone veneer is a very durable building material, which is also surprisingly impact and shock resistant making them very hard to damage which will keep your home looking fresh and attractive for many years.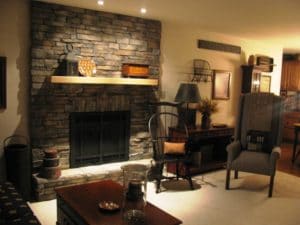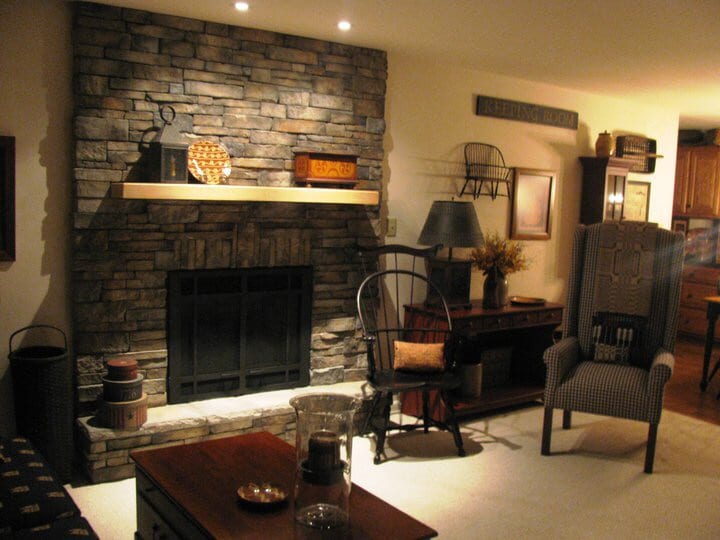 A stone veneer material brings the beauty of natural stone into any room. Decorating with stone enhances interior design with a natural feel and some fantastic textures. Stone veneer allows any designer to achieve outstanding, creative and affordable results in modern interior design with a fireplace or accent wall using decorative building materials like stone.
Stone materials offer a huge benefit due to the unparalleled range of colors that are available. You can find natural or manufactured stone in exactly the colors you want to match your interior design and home furnishing color scheme. Manufactured stone veneer can even be custom colored in any color of your choice to brighten up modern interior design or create a specific effect in your home. Stone encourages imagination and makes it possible to create an amazing home design using your favorite colors and textures.