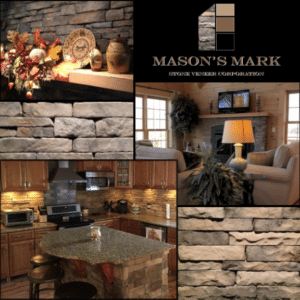 Both natural and manufactured stone veneer products have been very popular in recent years often showing double-digit growth across the entire industry. Customers are really showing an interest in using stone as a building material. "It is very easy to argue that stone veneer is among the top home improvement product used today and will add significant value any home or business." says Christopher Miller, VP of Sales for Mason's Mark Stone Veneer Corp. "People seem to be more willing to buy homes when there is a high quality stone product incorporated into the design. It gives the home a rustic, natural look that has been increasingly popular."
Remodeling's 2015 Cost vs. Value Report suggests that the added value is very real. The very first year that stone veneer was featured in the report, shows that a project replacing 300 square feet of vinyl siding with manufactured stone veneer recoups 92.2% of its total veneer cost. This high return in 2015 made a stone veneer accent the second most valuable home improvement project behind steel entry door replacement. That trend continued in 2016 as well. There is no doubt that stone veneer is one of the best options to consider for your 2017 home improvement project.
Mason's Mark Stone Veneer Corp. offers both a manufactured and natural thin stone veneer product in a wide variety of styles and colors. Any of which can be installed alone or in a combination with other stone styles. In a traditional single style stone veneer installation the customer chooses one style and color for the entire project, however there are so many options to choose from in order to create a very unique and beautiful finished project. Blending two or even three stone styles and colors can create a new custom look so your home won't look exactly like the neighbors. With our panelized Quick-Fit system you'll generally have to stick with one style and color, but they are far easier and faster to install.
Our newest Quick-Fit Ledgestone is getting some really great feedback from a lot of professional masons and contractors who are saving between 20%-40% in installation costs as a result of faster installations. "The potential savings in installation is just one of the many features that Mason's Mark has added to its product line. It's a great product and our customers and contractors just love it." says Brian Lake of K-2 Engineering of Uniontown, PA.
There seems to be a stone veneer for every design style on the market today. From contemporary or modern to rustic and primitive the possibilities are virtually endless. Many builders will agree that all the newer hotels or restaurants have stone somewhere on the interior or exterior of the building. With veneer, if you have an existing home, you don't need to have a reinforced footer, and it can be installed anywhere you want. That is the main factor driving the demand, and the cost has made it very accessible to the average person."