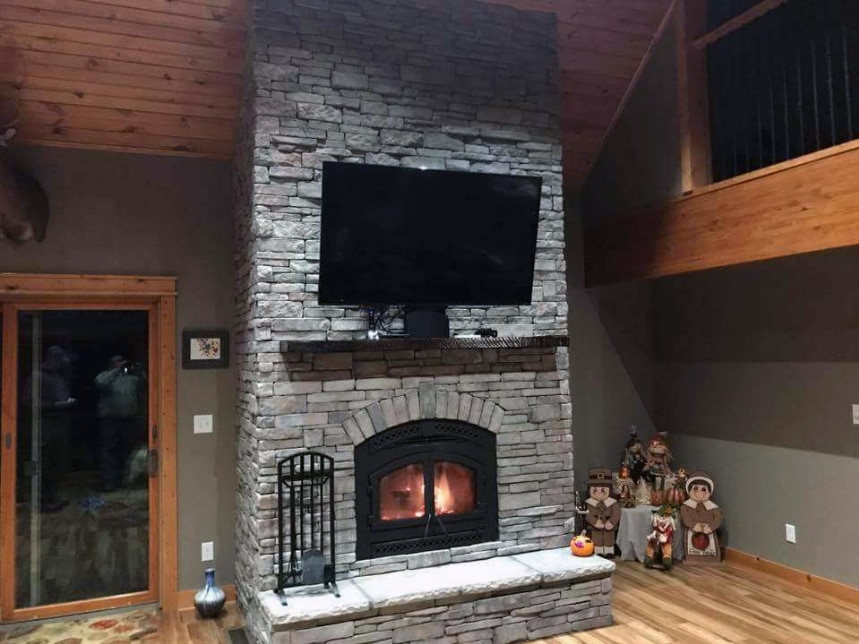 Stone veneer is a stunning material to use for your home renovation if you happen to love the rustic, earthy, visual appeal of stone, but have little interest in choosing a material that requires a lot of maintenance and care. Stone veneer is easy to install thanks to its special lightweight design, requiring zero additional supports, and can go from a pile of individual pieces to a full, completed project in as little as one afternoon (depending on the size of your project). In fact, to help give you an idea of just how versatile stone veneer can be, here are five of the best places in your home to utilize stone veneer!
Kitchen
No matter how big, small, open-concept, or closed-off your kitchen may be, you can use stone veneer to give it the character and depth it's been missing. You can easily use a little of it for a simple project, like adding a great backsplash or updating your center island, or use a lot and cover every wall in your kitchen in stone, the choice is yours!
Bathroom
You bathroom is likely the least "dressed up" room in your home and yet, it could be one of the most relaxing with a little hard work and some of our incredible stone veneer. Whether you want to design a stunning new vanity, cover the bottom of your bathtub, create a jaw dropping luxury shower space, or simply take the spotlight off of your toilet, our stone veneer can help you create a spa-worthy space right in your very own home.
Family Room
If you, your family, and guests all spend the most time in your family room, why not go all out to make sure it's the most comfortable place in your home? From simply adding an accept wall to display your family photos and favorite décor, to transforming any existing features in your home, like built-in storage/entertainment centers and fireplaces, stone veneer can breath new life into any room – making it everyone's favorite hang-out spot.
Office/Guest Spaces
Like real stone, stone veneer can be subtle and sophisticated or stunningly bold, which is why it is the perfect material for any home office or guest space you may be designing. Whether you're hoping to impress clients, or your in-laws, our stone veneer can help you create a space you can feel confident sharing with the world!
Outside
One of the best things about stone veneer, besides how lightweight and easy to use it is, is how great it looks anywhere. You can cover the entire outside of your home in stone veneer and it would only raise your property's value. However, if you want to start out small, you can easily use stone veneer to cover a patio, customize your mailbox, build an outdoor kitchen, create a backyard fire pit, or whatever else you can think of. The possibilities are endless!
Get your hands on incredible stone veneer today by reaching out to one of our talented masons at Mason's Mark Stone. If you are looking for stone veneer to complete your commercial or residential project, look no further. You can learn more about how to fully customize your stone and realize your vision by calling 724.635.0082 or fill out the form in the sidebar, today.