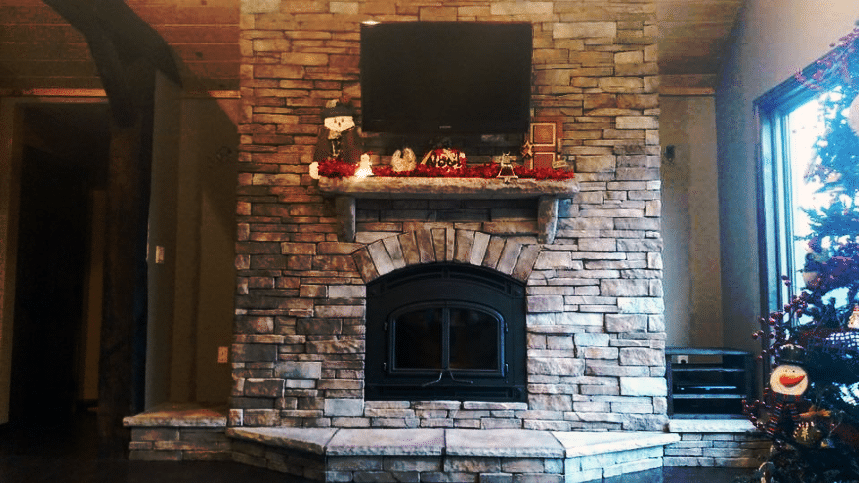 Whether you have an old fireplace already in your home in need of an upgrade, or you're considering putting an electric one in and want to make it look as natural in your home as possible, Mason's Mark Stone has the perfect stone veneer solution for you. To help you get an idea of which stylish design will compliment your home's unique architecture and interior, here is a list of 7 popular stone veneer fireplace design trends you shouldn't live without.
Multi-Functional Fireplaces with Storage
Maximize style and function in your home with this design by encasing more than just your fireplace in stone veneer. Not only will this add significantly more drama to your living space, it will create a greater sense of cohesion as well. Plus, it looks fantastic!
Arched Stone Fireplace Surround
Sharp, clean-cute edges are classy and modern, but if you're looking for a slightly more formal, elegant look, your best bet is to add a subtle arch just above your firebox when installing your stone veneer. For a really eye-catching effect, flip the direction of the stones in your arch around.
Floor-to Ceiling Fireplaces
If you have particularly high ceilings, this design trick is definitely for you. A floor-to-ceiling stone veneer fireplace will not only highlight the stunning height and shape of any space, it will it dramatically enhance an already incredible focal point.
Fireplace Banding
Not all fireplaces should be flush with the walls they're installed on. After all, you want it to pop, not get lost in the background. Fortunately, with stone veneer, it's easy to create a more striking 3D effect by simply banding the fireplace on three sides. It's the perfect design for someone who wants to add a little more texture to any space.
Bathroom Fireplaces
Perhaps you've seen fireplaces in living rooms, bedrooms, and even kitchens, but it's likely you've never seen a bathroom fireplace before. Of course, just because it's not a common thing to do doesn't mean it's not a great idea! If you want to relax in the tub like you're at your own personal spa, add a simple stone veneer fireplace to your bathroom!
Multi-Sided Fireplaces
If you own a contemporary home or a property with a massive open floor plan, a multi-sided fireplace may be just the thing you need to shake things up. With a multi-sided fireplace, you will be able to enjoy your stone veneer covered fireplace from multiple rooms – not to mention it's a truly unique and interesting feature not many other people have.
Outdoor Fireplaces
Whether you host a lot of parties/gatherings at your home, or you just like sitting outside in the morning with your coffee, having an outdoor fireplace covered in natural looking stone veneer is a great way to seamlessly connect the comforts of your home with the natural rustic atmosphere outdoors – creating a truly balanced, one-of-a-kind space.
For more information about how to design your perfect indoor or outdoor fireplace using our incredible stone veneer at Mason's Mark Stone, reach out to us today! You can learn more about how to fully customize your stone and realize your vision by calling 724.635.0082 or fill out the form in the sidebar, today.