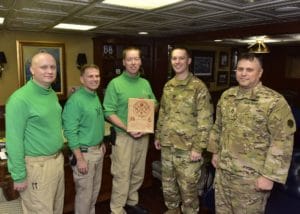 Christopher J. Miller, VP of Sales & Marketing at Mason's Mark Stone Veneer, was recently deployed with the US Army on board two US Aircraft Carriers as a Ground Liaison Officer from July 2017 – January 2018.
A recent news article written by Mass Communication Specialist 2nd Class Elesia Patten, Nimitz Carrier Strike Group Public Affairs outlined the details behind Christopher Miller's combat deployment in the Arabian Gulf. We are so proud of his dedication and service to our nation these past 27 years and look forward having him home safe and sound with his family and friends.
"Each branch of the U.S. armed forces has its own distinctive mission capabilities, but the overall mission across the military is the same when it comes to protecting the interests of the nation and preserving freedom throughout the world," said 2nd Class Elesia Patten," SFC Miller is a six-year Navy veteran, having served on a submarine as a fire control technician in the '90s. He said he sees being aboard Nimitz as a great way to bookend his career in the U.S. armed forces as he will soon retire." Chris, as we have come to know him is planning to retire from active duty in February of 2018 and returning home to his duties with Mason's Mark full-time.
"Having the GLO team to provide a direct connection to troops on the ground is imperative to our mission success," said Lt. Matthew Perry, a pilot from the "Black Knights" of Strike Fighter Squadron (VFA) 154, "During each flight brief the GLOs break down the current ground picture and explain the situation, which enables us to give the best support to our ground forces."
Shawn Miller, VP of Operations said, "Mason's Mark Stone Veneer is an 100% American veteran business that is dedicated to supporting our men and women in uniform. I am very proud of my brother Chris and cant wait for him to come home to us."
"For me, the military is a job that I love but being a business owner for a company that produces a high quality stone veneer product made by Americans in Southwestern, PA is one thing that I am very proud of," said Christopher Miller, "I create jobs and benefits for our employees in the same way I have always provided for my Soldiers and that is an awesome responsibility that I will never take lightly."
If you are looking for stone veneer to complete your commercial or residential project, look no further than Mason's Mark Stone. You can learn more about how to fully customize your stone and realize your vision by calling 724.635.0082 or fill out the form in the sidebar, today.